See Something,
Say Something
S4 is a law enforcement and public safety technology solution, that promotes the global See Something, Say Something movement. S4 has the most advanced online and mobile crime fighting technologies in a single solution.

S4 creates a real partnership between police departments and the public in the fight against crime, and it provides the seamless sharing of intelligence and collaboration between divisions and officers within law enforcement agencies.






---
The Best Police App
with the Most Public
Safety Technology
S4 provides Police Departments with their own Branded Mobile App, which citizens can download to their mobile devices. The S4 App gives the Police Department, the best technology to connect with the public and offer a more personalized public safety service. Citizens feel safer as the S4 App offers an array of personal police protection services from a mobile device.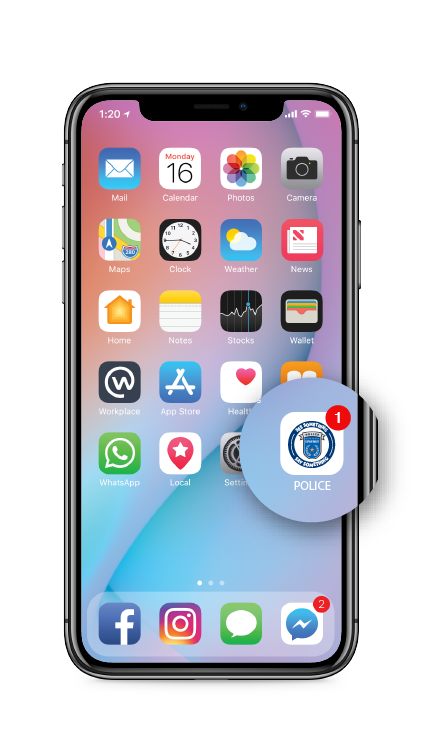 ---
A Dedicated Digital Media
Platform
Police public relations need an effective outreach medium that is free from the noise and misinformation of social media. S4 Police App, offers a dedicated digital media platform for Police Departments to better reach the public and keep them informed about their policing and public safety initiatives.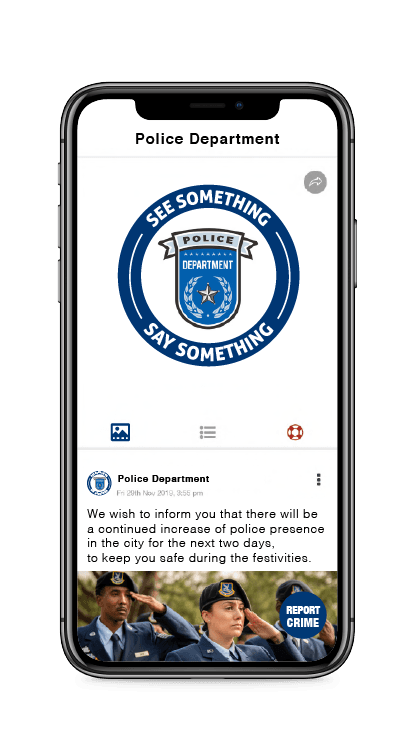 ---
Digital Crime Reporting
Public crime reporting is critical for law enforcement and crime fighting. S4 Police App allows the public to report crimes and live crime scenes from anywhere, to the Police Service from a mobile device. The App's crime reporting technology supports Automatic Language Translation Photos Videos Audio Recordings Digital Files Location Live Video Streaming and more.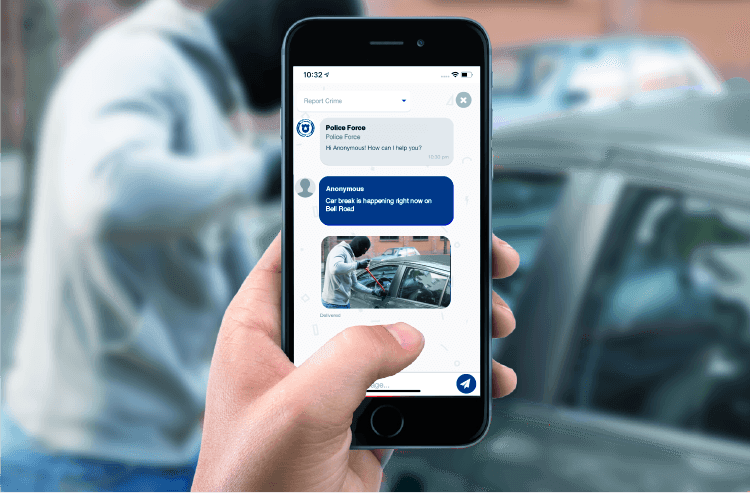 ---
A Better Call for Help
S4 Police App's SOS feature, helps Police Departments to provide the public with a fast and easy way to call for urgent Police help when in personal danger. S4 App requires only 2 taps on a mobile device to call for urgent police assistance.

When activated, S4's SOS feature immediately alerts the police of a call for help, and identifies the victim by name and photo ID. The SOS also reveals the live location of the victim even if he/she is on the move. The SOS activation simultaneously sends emergency notifications to up to 5 emergency contacts of the caller.
---
Protecting Special
Risk Persons
Living with the real threat of critical personal danger and the need for police assistance when the threat occurs, is a hard reality for some persons. S4 Police App helps special risk persons to be easily identified by Police Departments when they send an SOS call for urgent police assistance. Special risks, like occupational risks, restraining orders, etc. are detailed in the callers S.O.S. information, so that police officers can know of their potential dangers and be better prepared to respond to their call.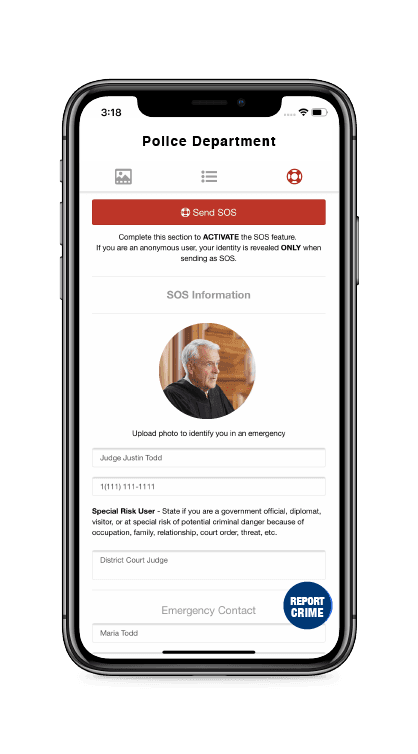 ---
Online Police Reporting
Visiting a Police Station to report a crime can be intimidating or inconvenient for persons at times. S4 provides Police Departments with digital online police reporting technology. This technology allows the Police to offer the public the convenience of remotely making a formal police report from a computer or mobile device from anywhere, without having to visit a police station.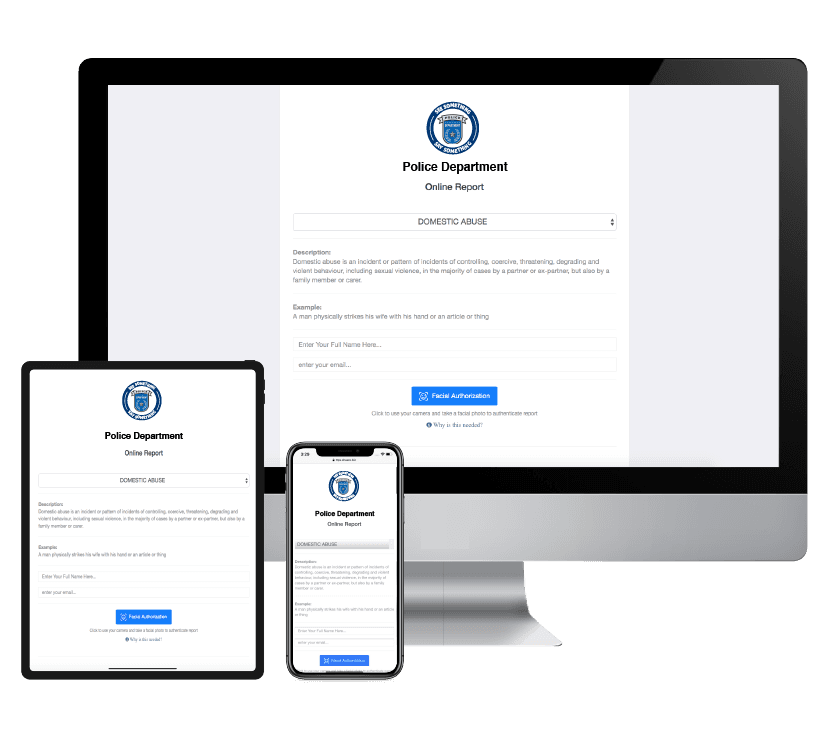 ---
Data Point Alerts
S4 helps Police Departments to set up Data Points that send digital alerts to citizens' mobile phones each time they pass near Police appointed data point locations. The digital alerts can be used for public safety and security information, and disaster and emergency notifications. No internet connection, WiFi or phone data is needed for persons to receive the alerts.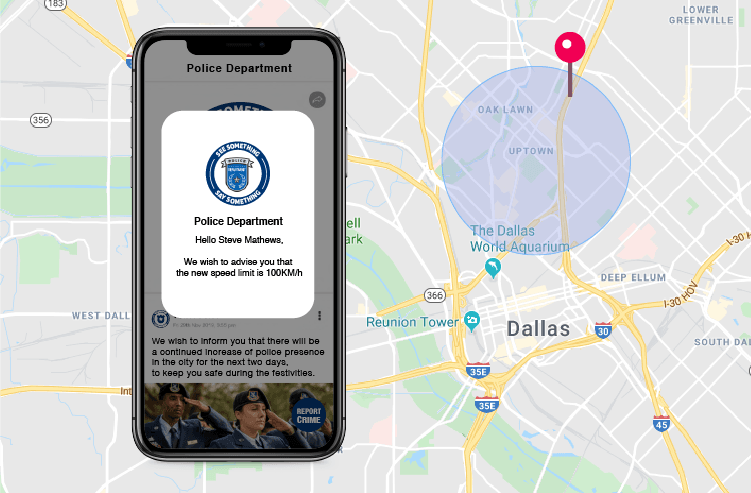 ---
S4 for Business
S4 for Business helps Police Departments to provide special emergency response services to their local business community. Business owners and employees can call for urgent Police assistance when faced with criminal endangerment on the worksite, without the perpetrators knowing. S4 technology also connects with business webcams to give Police officers real-time viewing of a business crime in action following an alert.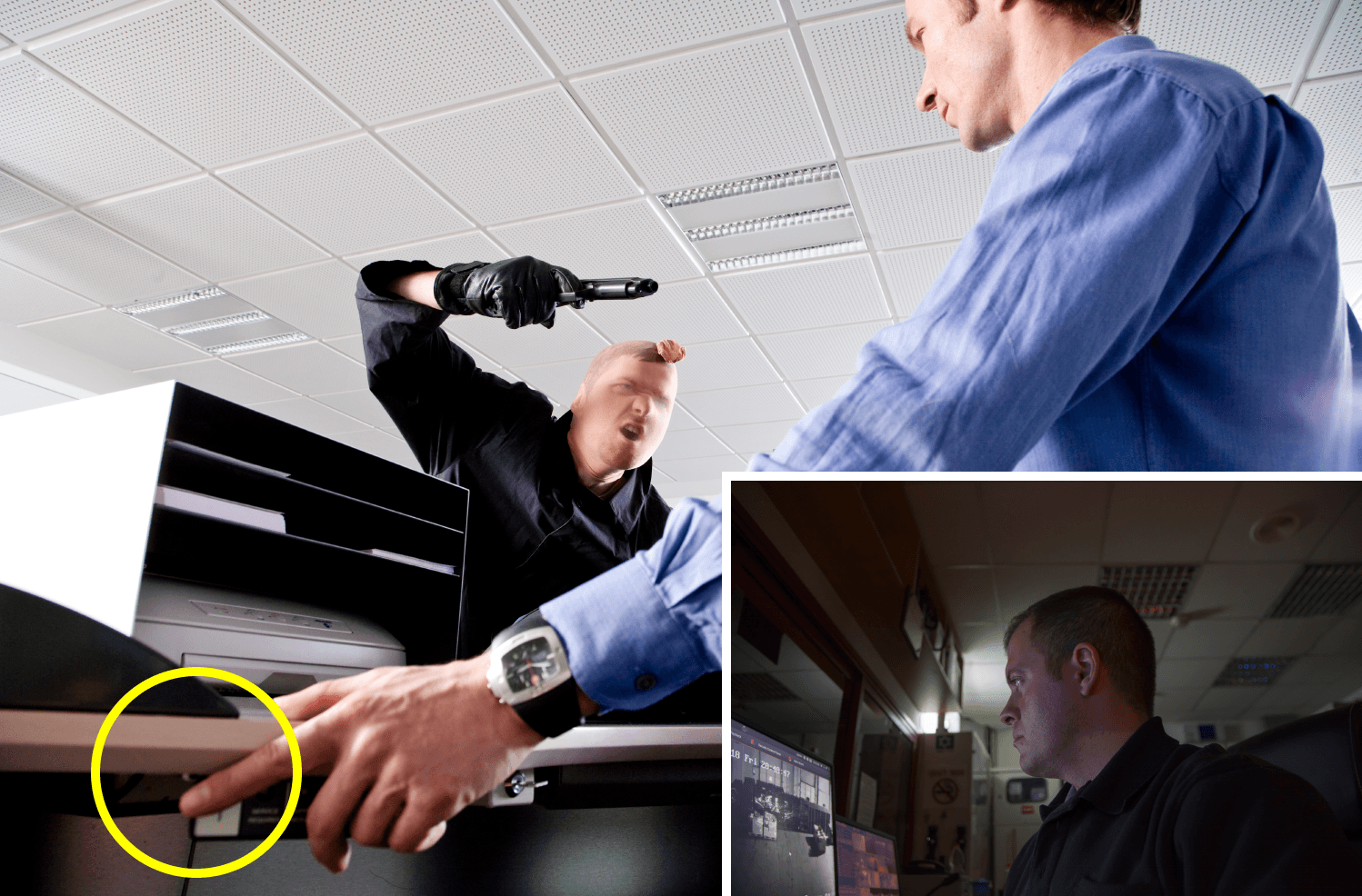 ---
E-Services
Police Departments offer more than just emergency response. In fact they provide a range of services that are essential to the livelihood of citizens and the economy. But many of these services can be provided remotely through a mobile phone. From driver's license and firearm license renewals and notifications to certificate of character (COC) and special events permit applications, S4's Mobile App e-Services Platform, helps change the way police departments serve their communities.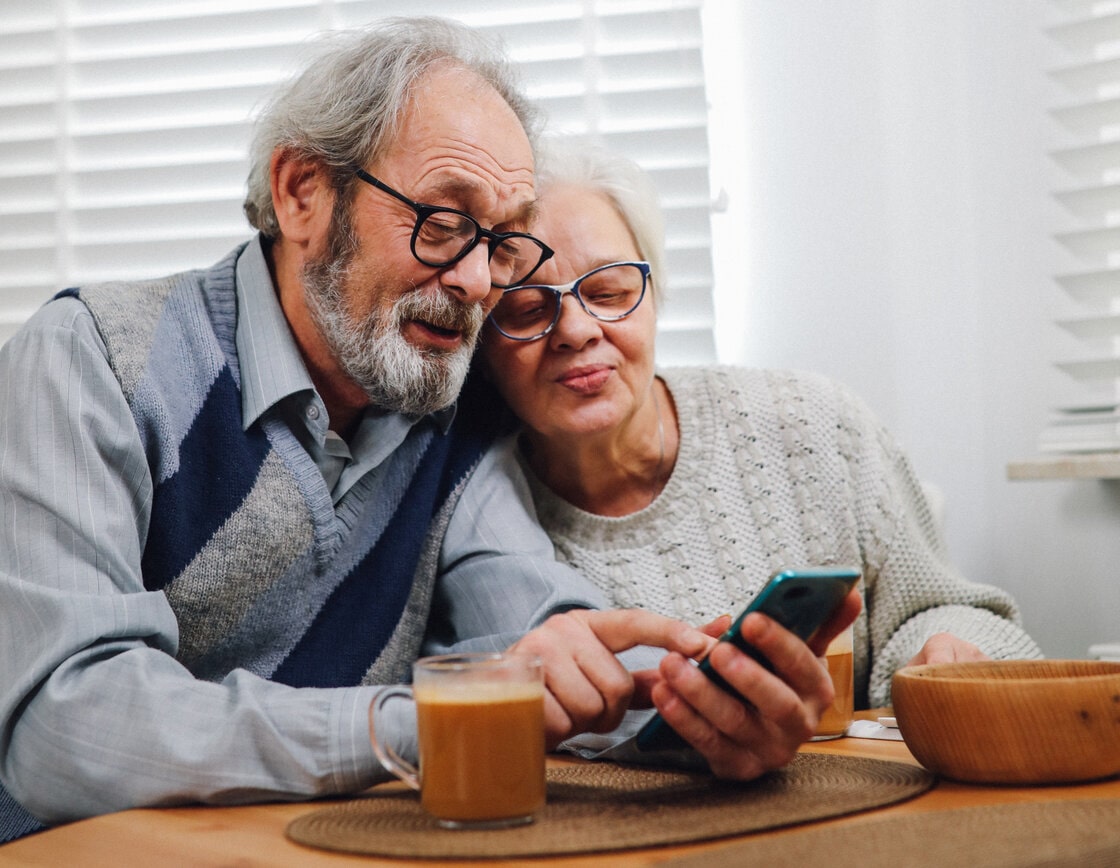 ---
Tracking Officers'
Conduct on Duty
The conduct of police officers has been highly criticized, following various publicized incidents of police misconduct. This has led many police departments to reform their policing policies and increase the use of video recording technology to capture police conduct in the line of duty. S4 helps Police Departments to provide the public with the technology to live stream police activities and digitally report misconduct with photo, audio or video evidence, directly to the police department.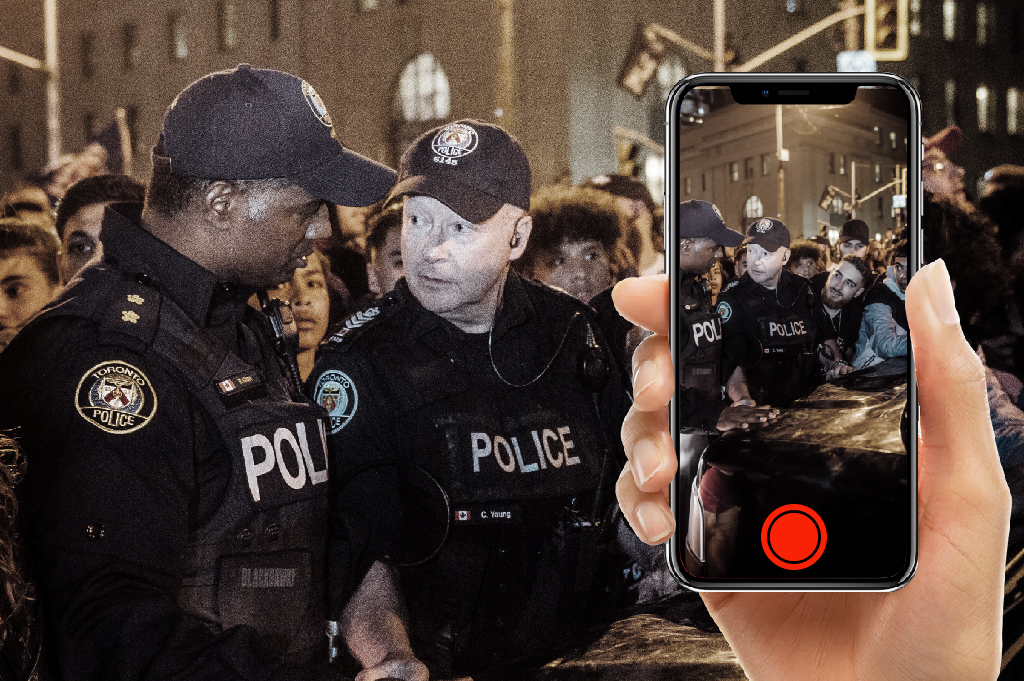 ---
S4 Technology
Administration
S4 technology is managed by an online Administrative Platform for use by Police Department Administrators and Officials. It provides tools to manage all of S4's data and features.
Easy-to-Use E-Diary
S4's electronic diary, allows for the easy capture of civilian online and walk-in reports with the ability to attach audio, photo, and video files to a logged report. Civilians receive a printed receipt about the details of their report including, report time, category, police station location, name of receiving police officer, etc. The police receipt is also emailed to the civilian.
Crime Investigation and Management Tools
S4's crime investigation and management technology offers police departments the technology to manage criminal cases from a single platform, from case entry to full solution. It provides authorized access and controlled sharing of criminal cases by multiple investigating officers, who can add notes and files to their processes whilst maintaining the full tamper-free history of the investigation.
The platform is scalable and has the technology to connect all police divisions, stations and officers in national crime fighting and investigations.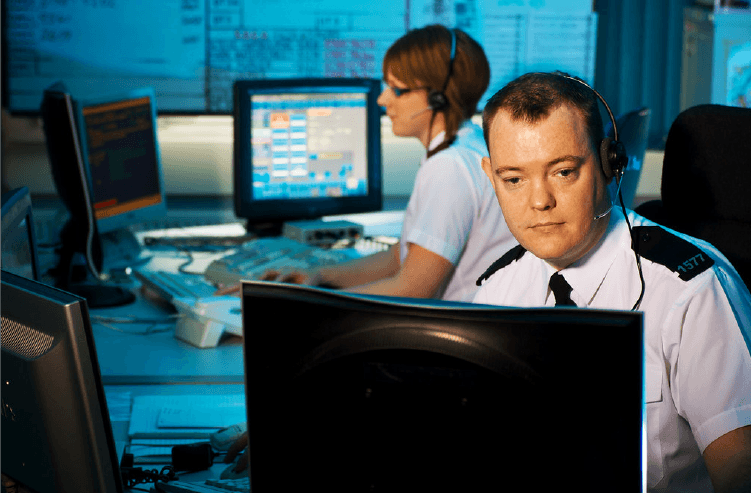 ---
Real Time Crime Analytics
S4 generates smart analytics that offer up-to-the-minute crime statistics at a national level. These analytics display crime data by quantity, category, and location, utilizing Artificial Intelligence to identify trends and patterns in criminal activity. This assists police departments in optimizing their resources for crime prevention and intervention.